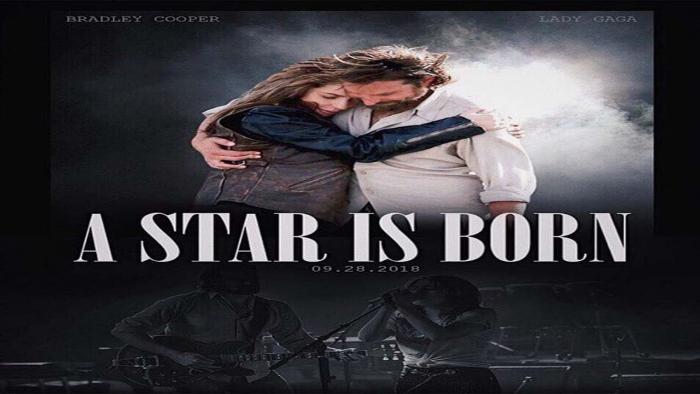 A Star Is Born Movie Details
| | |
| --- | --- |
| Production company | ‎Warner Bros. Pictures Live Nation Productions, Metro-Goldwyn-Mayer Pictures |
| Cast | Bradley Cooper, Lady Gaga, Andrew Dice Clay, Dave Chappelle, Sam Elliott |
| Cinematography | Matthew Libatique |
| Producer | Bill Gerber, Jon Peters, Bradley Cooper, Todd Phillips, Lynette Howell Taylor |
| Written and Directed by | Bradley Cooper |
| Release Date | October 2018 |
A Star Is Born Movie Story 
    A Star Is Born is a 2018 USA musical romantic drama. In this new take on the tragic love story, Bradley Cooper plays a seasoned musician.  He discovers and falls in love with struggling artist Alley. Alley has about given up on her dream to make it big as a singer until Jackson coaxes her into the spotlight. But even as Ally's career takes off, the personal side of their relationship is breaking down, as Jack fights an ongoing battle with his own internal demons.
A Star Is  Born Movie Review
Bradley Cooper's direction is carefully controlled and elegant. Lady Gaga's acting is layered and complex evoking shades of meaning in her character. Bradley Cooper portrays his character going through decrepitude with fearlessness making it seem ever more round and raw. A Star is Born hits the right emotional highs. The soundtrack with songs performed by Cooper and Gaga gently and momentarily distracts you away from the impending tragedy.
Cooper places his camera at low angles and the actor drops his head down with weariness and intoxication.whether he is falling in love, sharing the wisdom of his experience with Ally, bickering with his brother Bobby attempting to lift himself out of a dark, emotional pit. Gaga brings the right combination of incredible singing and genuine wonder at Ally's transforming world. This film is definitely a must watch in my opinion
A Star Is Born  Movie Highlights
The main highlights of the movie are Bradley Cooper's direction
Music, The soundtrack with songs performed by Cooper and Gaga  gently and momentarily distracts you away from the impending tragedy
Bradley Cooper's and Lady Gaga's acting
Emotional Story
A Star Is Born Movie Drawbacks
Some scenes are amputated of their emotional punch and narrative logic, and yet the film runs at a 1hr 35 minutes